Add or Remove Users, Set Permissions, Reset Passwords, and Adjust Notification Preferences.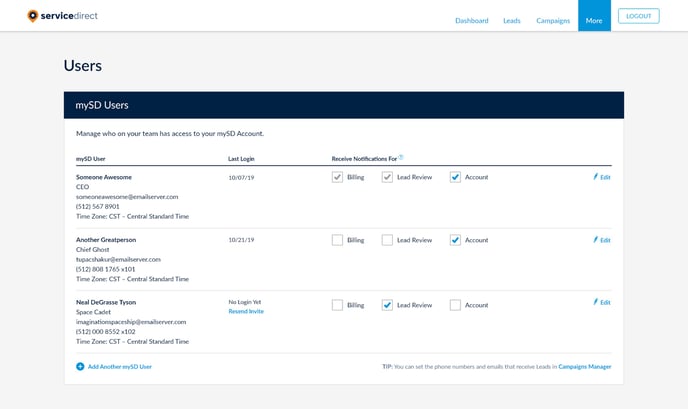 You can manage Users, set up notification preferences, and reset or change passwords all from the Users page in your mySD Account. You can access these settings anywhere in mySD by clicking "More" in the top navigation bar and selecting "Users."
Note: If you are logged in with a Manager Account you will see an additional checkbox option to allow a User to receive notifications for all sub-accounts as well. Currently, you are only able to view Users under the main Manager Account, not all sub-accounts.
Add a New User
---
To add a new User, simply click the "Add Another mySD User". When the pop-up appears, fill in all necessary information. You can also choose if/when they should receive email notifications as well as specify their time zone.
Note: Each new User will be sent a link to the provided email address to set their password.
Edit or Remove a User
---
To make changes to an existing User, click the "Edit" button on the far right of that User's row. In the pop-up, you'll be able to change the email address, request a password change, and update User settings. From here, you may also remove a User by clicking "Delete this User."
Reset or Change a Password
---
In the event a User forgets their password, you can send a password reset link to the User's email. From the "Edit mySD User" pop-up, click the "Send Password Reset to this User" link to reset the password. An email is sent to the User's email prompting them to choose a new password.
Learn more about what to do if you've forgotten your password.
Change Notification Settings
---
Choose what type of notifications your Users will receive by checking the box next to each notification type. If you wish for a specific User to no longer receive a notification, simply uncheck the box.
Note: At least one User must receive each notification type. The checkbox becomes greyed out in the event there is only one User set to receive a certain notification.